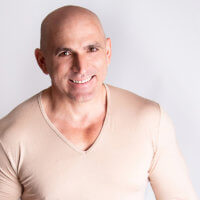 Domingos Folgado
Personal Trainer
Trainer Bio
Domingos Folgado has a Level 3 Personal Trainer and Advanced Training System qualification. He has extensive knowledge and experience as a Naturopath and specialist in traditional medicine along with different massage technics.
Domingos' specialty is rebalancing the body and full body transformation.
"Everyone must take responsibility for her/his own body. We use our bodies 24-hours a day and if we don't feel confident because of fitness, pain or overweight, this has a big influence on our lives. I can give you the knowledge and the tools to change your life. Even a single step can point you in the right direction. Take this step!"
Want to transform your body – Domingos' one-on-one training programs not only deliver the result what you want but you enjoy work with him as he uses diverse training methods keeping you on track all the time.
Personal Training
Ready for some Personal Training? Choose a pricing plan that suits your budget.